SAN FRANCISCO, March 4 morning news, the world's largest solar-powered aircraft "Solar Impulse on the 2nd" Global Flight Project Sina official website (http://solarimpulse.sina.com.cn/ ) formally launched. As the world's first pure green, the aircraft can fly day and night, the sun will challenge the power on the 2nd flight around the world rely entirely on solar energy. Sina hosted the Solar Impulse's exclusive official Chinese website, the tracking reports the global travel.
Under the Solar Impulse is the world's first can not add any fuel, does not emit any pollutants circumstances, day and night flying aircraft. The single-seat aircraft made of carbon fiber, a wingspan of 72 meters, bigger than the wingspan of a Boeing 747-8I, but it weighs only 2300 kg, and the weight of a midsize SUV similar.It is a record eight world records, once the two continents leap across the United States.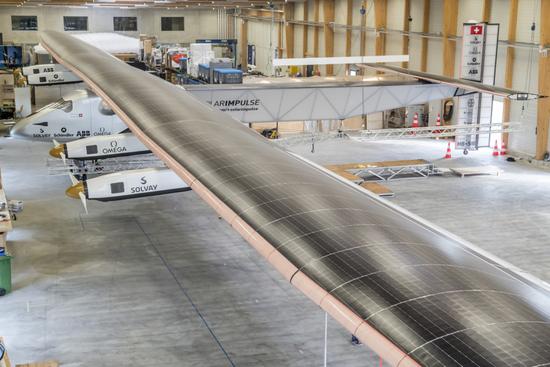 Solar Impulse 2, which is the world's largest solar-powered aircraft
The flight around the world designed to show the clean technology and renewable energy is the ultimate challenge of how to complete the seemingly impossible task. Meanwhile, we hope to encourage each country's people for a common goal and to cooperate: to commit to a sustainable future.
Solar Impulse has completed its first flight on the 2nd February 26 in Abu Dhabi over. Aircraft is now scheduled for March 7 from Abu Dhabi, within four to five months, were 25 days or so flight around the world; expected March 13, will fly to China, in Chongqing and Nanjing stay launch a series of exchange activities, showing them how to clean energy technology will change the world.
Sina science and technology in the field of aerospace science and astronomy have been explored more in-depth reports, the Solar Impulse project parties choose as the sole official web portal Sina partners the flight around the world.Solar Impulse project Sina official website under the flight logs, news, video, Atlas four plates. Each test flight around the world before starting formal, Sina will make the flight to the full range of reports through text, pictures, video, microblogging and other forms.
After the flight around the world began, the official website will be launched Sina live video throughout the flight, the pilots for Chinese users to understand the machine's every move. Another official website will also carry out a series of interactive activities online and offline, users are welcome attention Solar Impulse official blog , feel free to view the latest developments in solar-powered aircraft to participate in a variety of fun and interactive activities, the Solar Impulse project are also welcome to the official website of Sina various forms of cooperation . (Paper knife)
The world's largest solar-powered aircraft